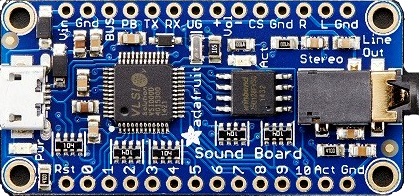 Adafruit Audio FX Mini Sound Board WAV/OGG Trigger 16MB Flash
The Audio FX Mini sound board is a simple to use, low cost audio effects trigger that does not require any programming. It does not need an Arduino+Shield
Features:
No Arduino or other micro controller required. It is completely stand-alone, just needs a 3 to 5.5VDC battery
Built in storage - there's 16MB of storage on the board itself. Good for ~15 minutes of compressed stereo, and maybe a couple minutes of uncompressed stereo. Double that if you go with mono instead of stereo.
Compressed or Uncompressed audio - Go with compressed Ogg Vorbis files for longer audio files, or uncompressed WAV files
High Quality Sound - Up to 44.1KHz 16 bit stereo? The decoding hardware can handle any bit/sample rate and mono or stereo
8 Triggers - Connect up to 8 buttons or switches, each one can trigger audio files to play
Stereo line out - Headphones, powered speakers.